I realize it has been over two weeks since my last article, but I am still alive and kicking. I have been working on several ideas at once rather than one at a time, but the most notable will be published tomorrow. I finally received the data I was waiting on in order to continue my
fantasy baseball draft compilation
and found a way to have it "automatically" update itself. Everything was entered manually up until that point, so doing this helped me recognize and correct several small errors, such as players who were ranked incorrectly, missing, and sorted improperly. Get excited!
Here are a few topics I'm still working on. Feel free to express any enthusiasm or disinterest.
Payroll Win Efficiency: How much does a team pay to win?

How Houston Moving Affects the MLB

MLB Divisional Travel Efficiency

League Realignment Proposals

MLB Expansion Ideas

How to Expand the MLB Playoffs

I have been enjoying a baseball simulation game called Two Out Rally which is a multiplayer online role-playing game. You play the game as a scout who can create players, write their stories, distribute their skill points, sign a contract with a team, train, and essentially help guide their destiny as a baseball player. You also have the ability to create and run your own team.
Season 12 just started with the introduction of Gamecast, which was inspired by the style of the ESPN baseball Gamecast. The developers are very responsive to ideas and there are always scouts around to help. If you're interested, then you should check them out and create a player using the link below so I can refer you.
http://www.twooutrally.com/referral.php?rid=5088
---
In other news, my girlfriend suddenly became a baseball card collecting enthusiast when she saw the newest
Rally Squirrel baseball card
coming in 2012 Topps Series 1. I admit. It is cute.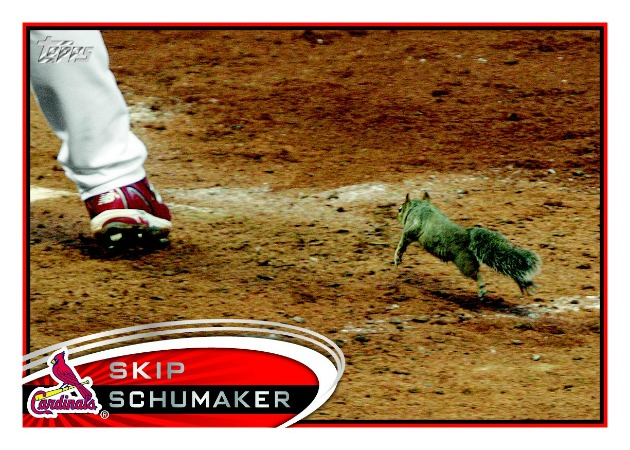 ---
Before you leave today, please cast your vote for my 2012 fantasy baseball team names based upon the formerly popular Super Nintendo game,
Super Baseball 2020
. Select as many names as you want. Thanks!